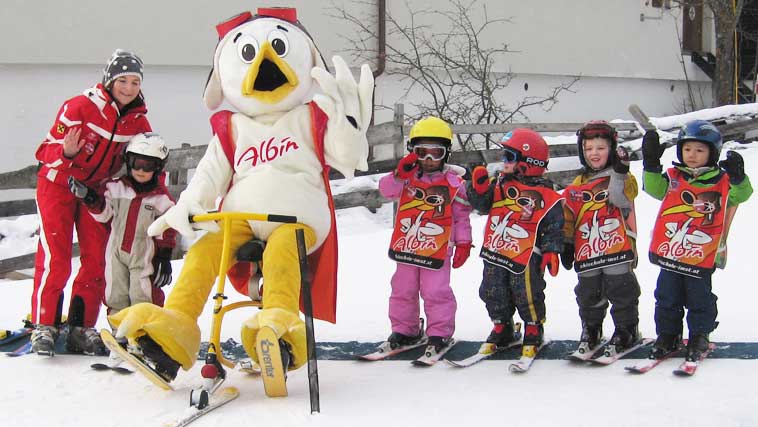 Albin
As you can see on the picture I am a frolic bird and I love flying around. I adore flying to places where there is always something going on and, of course, I prefer places where kids are. In the past I wouldn't remain at one place for a long time and this is why I have already been all over the world and experienced the funniest and most exciting things.
But it's been 4 years now that I call the mountains of Imst my home and I think I won't leave this place any more because I do really feel comfortable here.
Are you interested in how I came here? Very well then, listen carefully!
At that time, it was during the summer months, I was flying above the magnificent highlands and mountains of Imst when I suddenly saw weird and huge animals with edged teeth right next to a cable car. To tell you the truth, at first I was actually a little bit frightened but when I slowly approached them I saw that those animals were made of metal and were digging assiduously in the earth. So I thought: "I need to observe that clearly." I positioned myself in a tree and kept track of what was going on for a little while.

When I finally discovered the human beings, which were sitting in those thingies, I had to laugh because I realised that I wasn't observing men but machines. They were working there. But what were they doing? It was highly interesting: All those human beings, the shiny metal pipes, which were being placed through the woods, all those machines and tools…
I could not endure my own curiosity and this is why I asked cautiously one of the workmen what all this was about. It was a huge astonishment for me when I found out that the longest Alpine roller-coaster of the world was being build right here.

I could not endure my own curiosity and this is why I asked cautiously one of the workmen what all this was about. It was a huge astonishment for me when I found out that the longest Alpine roller-coaster of the world was being build right here.

"This is going to be a lot of fun for all the kids and adults", I thought to myself and so I could hardly await the day when everything would be finished.

So I stayed there all the time and observed every tiny detail.

From morning to night I was on the roadway, made several sightseeing flights, watched out carefully and assisted whenever a hand was needed. Everyone enjoyed that, of course, and this is why I felt – after a little while – that I had found friends here.

Finally, it had happened: Works on the Alpine-Coaster were completed. And now try to visualize who was the first one scampering around the Alpine roller-coaster? Exactly, it was me.
Wow, you won't believe how much fun that was and, kids, I am telling you: I nearly thought it was more fun than flying- and I am the one who should know it, right? Since I had observed every detail during the construction process I knew that the workmen had done a very good job and so I was not afraid of it at all. Since then I am again and again playing with kids there and I really do take care of them very well …

By and by it was getting colder and colder and so the ado in Hoch-Imst started to become less and less. Also hardly any kid was to be seen at the Alpine-Coaster and the cable car – once persistently going up and down – was suddenly not moving anymore.

I was so sad and thought that my time in Imst had come to an end by now and that I had to look for another home.

It was snowing the first time and I pondered how – and even more important – where I could spend the cold winter.
Suddenly I heard loud laughter of some kids. First I thought that I was only dreaming but after a little while I took off and flew directly to the place where I had heard the laughter. And astonishing enough there were lots of children who were playing in the snow. They all were wearing very warm clothes so that in the end you could only see parts of their faces. A lot of them were standing there and sometimes also moving with two long and weird "shelves" beneath their feet. They all looked so funny to me!
"Well, finally there is something going on again in the mountains", I thought to myself.
And since I am very nosy I asked one of the kids straight away what they were doing here and Anja, a small and bashful girl, told me that those two "shelves" were called skis.

Stefan - another boy- also told me that they all were about to learn how to ski with the help of a skiing instructor from the ski school Imst, named Maria. So Anja asked me if I wanted to join them and learn how to ski as well. Well, no one needed to ask me that twice! "Of course", I exclaimed and managed to get warm clothes, a bobble hat, gloves, ski boots, skis and ski poles and I wanted to start off right away.
But our ski instructor Maria played some funny games with us in the snow first and so we started to get to know each other because there were so many other children around me. Then we did some warming up, which was very good because I could hardly feel my wings any more because of the cold.
Finally we were able to start: We stepped into the binding and tried to slide a little bit on the slushy surface of the snow. That was not at all as easy as I thought it would be! I tried to keep my balance but sometimes I had to fiddle a little bit and used my wings. But it didn't take much time anyway until I had fallen head over heels right into the snow. I looked like a complete snowman. First I was shocked but when I realized that nothing severe had happened, I had to laugh very hard and of course, all the other kids laughed as well. We roared with laughter!
We had so much fun in this ski course and the ski instructor Maria was very nice, too. She showed and taught us so many things that I finally thought to myself: "How time flies!" I hadn't even noticed that we had come to an end.

At first we only practised at an even part of the slope, but then we were already able to use the "magic carpet", which I enjoyed very much. With the magic carpet you don't need to pedal up and down but instead step on it and you are moved upwards. It works without effort and once you are off the carpet you can go down the slope again easily.

On our third day we already took the cable car and we managed to ski down the whole slope. Every single day we learned something new and so we started to ski faster and faster- it was so much fun! On Friday we also participated in the big ski school race. And who do you think was the fastest? Of course, it was me. But all the other kids did a good job as well and therefore received a medal.
Unfortunately I had to say good-bye to Anja, Stefan and all the other kids. But they promised me that they would come back next winter. Since then I am always hanging around with the kids from the ski school Imst and I support diligently in ski courses. That is so much fun! All of the instructors are my friends and every single week I get to know so many children and this is why I could tell you many different and funny stories.

Afterwards I also learned how to snowboard which I think is mega- cool and it amused me very much. Snowboarding combines action with diversion for everyone – since you have the opportunity of trying to do a lot of different tricks – but I will tell you about that some other time….

Now I have found a marvellous home in Hoch-Imst where you can do so many different things, where there is always something going on- in summer as well as in winter, and where a lot of children come and visit me.

I helped my friends- the ski instructors - to build a lovely practice area for kids for that we all can maximize the fun and learn how to ski even better …

And I am pretty proud of it because this nice spot was named after me:
ALBIN'S PARK FOR KIDS
So far so good, my dear children, I am already thrilled to bits that you are going to visit me and that we all are going to experience a lot together. I am telling you, it is so much fun in the ski school in Imst with all the ski instructors who teach you how to ski. And I will also help them assiduously and accompany you guys for a week!
See you soon!
With best regards,
Albin